Harry Potter: A Hogwarts Christmas Pop-Up (Advent Calendar) (Hardcover)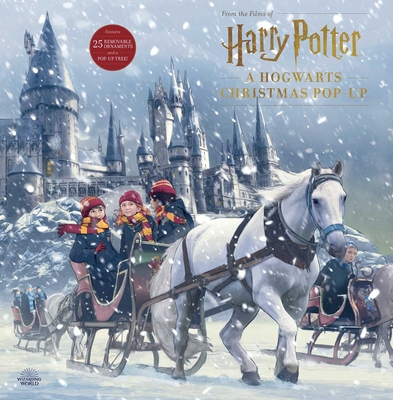 $39.99
Ships to our store in 3-8 Days
Description
---
2020 IBPA Awards Winner!

Celebrate the holidays at Hogwarts with this interactive pop-up book and advent calendar.

Harry Potter: A Hogwarts Christmas Pop-Up is a one-of-a-kind book that re-creates the iconic Great Hall as seen in the Harry Potter films, complete with a 13" pop-up Christmas tree at the center.

Countdown to Christmas: The book is filled with 25 keepsakes of iconic magical artifacts and other elements from the films, which can be used as ornaments to decorate the pop-up tree!

Create a holiday centerpiece: Fun for all ages! Over the month of December, create a delightful centerpiece, over a foot tall, with a sparkling tree topper and shining ornaments including Hermione's Time-Turner, the Monster Book of Monsters, Hogwarts house crests, and more!

Learn about Christmas at Hogwarts: A softcover booklet tucked behind a door in the top left corner is packed with behind-the-scenes details on the props, set designs, and special holiday moments featured throughout the films.

Recapture the holiday memories from the Harry Potter series, or create your own, as you celebrate the holidays with this must-have collectible for fans of the Wizarding World.
About the Author
---
Scott Campbell, sometimes known as Scott C., is the creator of the GREAT SHOWDOWNS online series and Double Fine Action Comics. He was art director and concept artist at Double Fine Productions on such games as Psychonauts, Brutal Legend, and Broken Age. His illustrated picture books include Zombie in Love, Zombie in Love 2 + 1, East Dragon West Dragon, XO, OX: A Love Story, Bob Dylan's If Dogs Run Free and Hug Machine, in which he has written the words as well as created the pictures. Scott lives in New York City.
Praise For…
---
"Muggles everywhere will absolutely love the magic within the pages of this gorgeous keepsake book."
— Romper.com
"This beautiful pop-up display will have young wizards feeling like they're celebrating Christmas in the Great Hall."
— Red Tricycle
"This book, placed pride of place on a table, mantle or shelf will make such a lovely advent calendar. The best part is that it's fully reusable!"
— Leaky Cauldron
"This is one book that will be kept with our Christmas decorations and brought out every year. It's an easy and fun way to integrate a bit of Harry Potter into the season."
— Geekdad
If you find the weeks leading up to Christmas to be interminable,
Harry Potter: A Hogwarts Christmas Pop-Up
from
Insight Editions
can help make the wait a bit more whimsical.
— Mental Floss
"Absolutely stunning."
— People
"Add some holiday magic to your home (even without the wand) in the lead up to Christmas day."
— PureWow
"A handsome display and can easily be used year after year."
— Paste Magazine
"Spellbinding…. make your little wizard's Hogwarts Christmas dreams a reality."
— PopSugar
"If you're looking for ways to feel festive this holiday season, you're going to want this Harry Potter: A Hogwarts Christmas Pop-Up."
— Kinja
"Bring the magic of "Harry Potter" to your home."
— INSIDER