Fifteen Years A Deplorable: A White House Memoir (Paperback)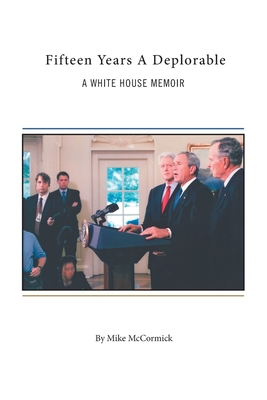 $15.99

Ships to our store in 3-8 Days
Description
---
This Pro-Trump White House tell-all packs a wallop
Pulling no punches, former White House stenographer Mike McCormick describes with eyewitness precision specific transgressions of media bias and why those transgressors should no longer be reporting on America's democracy.
Since this book's publication and McCormick called out Steve Kroft for racist behavior toward President Obama, Kroft resigned.
Readers who value a fair and balanced media will appreciate McCormick's candor and honesty in unmasking these offending "journalists" and "news" organizations; as well, they will appreciate his robust assessment of credible journalists and news organizations.
The Obama White House was a perilous environment for a Trump supporter, so McCormick stayed below the radar until an inadvertent slip-up among some colleagues cost him dearly. But with his unique Obama White House insider's perspective, McCormick dissects the 2016 election with month-to-month descriptions of Donald Trump's amazing march to the presidency (assisted by Mr. McCormick's brothers, both volunteer Trump advocates).
There are never-before-reported anecdotes on Hillary Clinton's indefensibly poor campaign (Democrats, it wasn't Russia that lost her the White House). Trump fans will enjoy McCormick's firsthand accounts of Team Obama's many failures and how their reliance on their fawning media pals to hide them resulted in the election of President Donald Trump
Fair-minded Americans will appreciate McCormick's portrayal of George W. Bush's compassionate genius, and George H.W. Bush's and Bill Clinton's grace, industry, and bipartisan cooperation in the saving of millions of lives in 2005, as well as his humorous anecdotes of Michelle Obama's zest for life, and Joe Biden's incessant bungling.
This is a book of real history, by an author who lived it -- on Air Force One, Air Force Two, in the Oval Office, the West Wing, Iraq, China, Russia, and every state in America.
If you believe in democracy and the American spirit, read this book
If you are a politically aware Democrat, Republican, or independent and want the best for America, read this book