State v. Claus: A Tale of Lawyers, Reindeer, Love, and Magic (Paperback)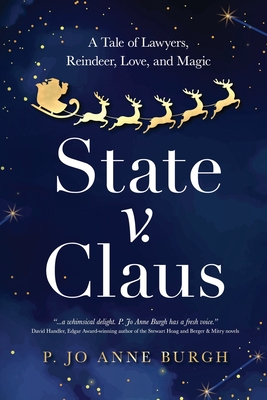 $17.99

Available at One of Our Locations
Description
---
As a partner in a small Connecticut law firm, Meg Riley assesses her clients' cases based on logic, reason, and hard evidence. But Meg's rational approach is tested when she is appointed to represent an attractive man who was arrested on Christmas Eve for criminal trespass. His explanation for being in a stranger's house in the middle of the night? He was delivering presents to a little boy-because he, Ralph Claus, is the son of Santa Claus. Or so he claims.
From the courtroom to Santa's workshop and back again, Meg's efforts to win Ralph's case are complicated by a variety of people with competing agendas. The little boy's mother is determined to see Ralph convicted, a quest supported by a state senator who is running for governor. Ralph's mother is more concerned about protecting the secrets of Santa than the niceties of the legal system. Meg's law partners are becoming concerned about her ability to balance Ralph's case with her obligations to bigger clients-and they don't even know about Meg's romantic feelings for Ralph.
After trial, an unexpected bombshell jeopardizes Meg's career. Faced with the potential loss of both Ralph and her profession, Meg must decide once and for all what she truly believes-and what she is willing to sacrifice for that belief.
P. Jo Anne Burgh has woven a luminous tale of love and friendship, laced with drama, humor, joy, romance-and more than a touch of magic.