Quit Smoking: The Ultimate Success Formula to Quitting Smoking Now & Forever (Hypnosis Meditation to Stop Smoking and Eliminate Smok (Paperback)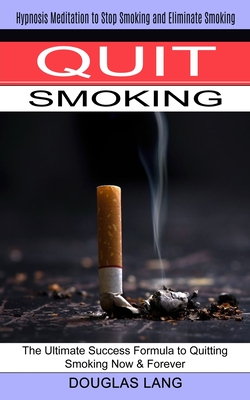 $19.95

Ships to our store in 3-8 Days
Description
---
Quit smoking. That's the message of this book, how to do it, is its substance. I have written this book to share with you all the necessary information about the impact of tobacco consumption as a causative factor for cancer and how to quit this largest preventable cause of cancer. Do you know that many international organisations have considered recording cigarette smoking a vital sign.
This quit smoking meditation bundle will help you:
- Remove cravings for cigarettes, tobacco, and nicotine
- Improve your state of mind and form a healthy mindset
- Reduce addiction-caused anxiety and stress
- Relax and fall asleep easily every night
- Change your life once and for all
- Much, much more
We all want this quit-smoking attempt to be the quit-the one that lasts us a lifetime. We're looking for permanent freedom from nicotine addiction when we stub out the last cigarette and begin to heal our bodies. You always knew the day would come when quitting stopped being a concept, and became a reality. This is that day. This book will teach you how to break the habit and embrace good health and step-by-step to stop smoking.