Crazy Water, Pickled Lemons: Enchanting dishes from the Middle East, Mediterranean and North Africa (Paperback)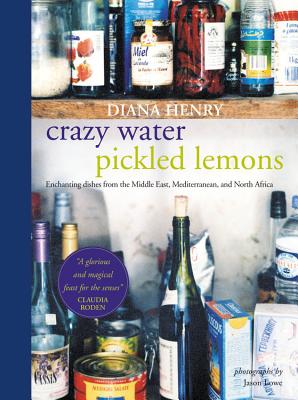 Please contact us for more details
Inquire with a bookseller before ordering. Call 860.430.6608.
Description
---

In this culinary exploration of the Mediterranean, Middle East, and North Africa, Diana Henry has gathered together dishes that combine exotic flavors in ways long forgotten - or never discovered - in many Western kitchens.

Colorful, aromatic and perfumed ingredients, from leathery pomegranates, with their insides bursting with ruby seeds, to flower-waters that allow you to drink in the scent of a garden, combine to bring an intoxicating whiff of the exotic to your table and pleasure to your kitchen. The core ingredients of these cuisines are increasingly available so dishes such as Chermoula-marinated Tuna, Fennel, Pomegranate and Feta Salad, and Lavender, Orange and Almond Cake are both delicious and accessible to cook.
About the Author
---
Diana Henry writes regularly for the Telegraph, in particular her weekly column in Stella magazine, and is a frequent broadcaster on BBC Radio 4. She has won many awards for her work, most recently the 2015 Guild of Food Writers Cookery Book of the Year and Cookery Journalist of the Year, and the Fortnum & Mason Cookery Writer of the Year (2015). She is the author of a number of bestselling cookbooks including A Bird in the Hand, A Change of Appetite, Salt Sugar Smoke, Roast Figs Sugar Snow, and Cook Simple. She lives in north London with her partner and two children.