Dark Psychology Mastery: Dark Psychology Secrets + Dark Psychology And Manipulation + Dark Psychology 101 (Paperback)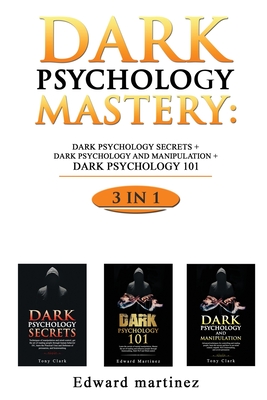 $29.97
Email or call for price
Description
---
Do you want to know how you've been manipulated in the past?
Would you like to protect yourself from negative, toxic persuasion techniques?
Are you ready to reveal the dark side of psychology?
Nothing is easier to manipulate than the human mind.
Have you ever found yourself doing things that you had no idea how or why did you accept to do? Have you ever felt like someone is lying to you, but just couldn't tell exactly what is the lie?
Dark psychology has been kept in secret for years. It is too powerful to let everybody know about it - and use it in their selfish advantage. But now, the secrets are exposed, and you can learn exactly how you've been manipulated in the past - and how you can protect yourself from (or even use) the exact same techniques.
In this Bundle you'll find:
10 Secret psychology tricks to get people to do what you want
How to manipulate people
How to use dark psychology in every area of your life (Poker, relationships, work, sales, and more)
How to protect yourself from being easily manipulated
The ultimate guide to improving your persuasion techniques
Reveal the secrets of emotional manipulation
Get proven hypnosis techniques
Expose mind control tricks, evil mind hacks, and personality-driven persuasion
And much, much more secret techniques, tips and strategies you'll not find in any other dark psychology book...
FAQ
Is dark psychology legal?
Manipulation and persuasion is a natural aspect of the human mind. As long as you don't manipulate people into doing things that are unethical, you can use dark psychology. Be careful - the techniques inside the book are highly effective.
What uses dark psychology has?
Whether you're trying to use dark psychology on yourself or on others, dark psychology can help you quit smoking, become more attractive, become robust to manipulations, persuade others, brainwash yourself to success, and much, much more. All explained in detail inside the book.
What benefits can I expect from this book?
After reading this book, you'll understand how your mind and others work. Once you know how the human mind works, you'll be able to control it and manifest anything you'd like in your life.
I don't want to be "manipulative". Is this book for me?
The same way knife can be used in a helpful way in the hands of a surgeon, and in a bad way in the hands of a thief, manipulation can be used for either good reasons or bad reasons. It's the man who uses the tool that makes it good or bad.
By picking up this book you are putting yourself in a favorable position to push, lead, and influence other people - use it wisely.
Scroll up, click on "Buy Now, and GET YOUR COPY NOW