Procrastination Cure: The Proactive Guide To Stop Postponing, Cure Lazy Habits, Blueprint To Develop A Growth Mindset To Increase Your Focus (Self-Help #3) (Hardcover)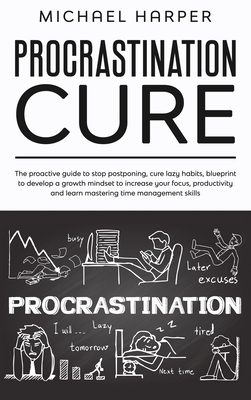 $29.95
Email or call for price
Other Books in Series
This is book number 3 in the Self-Help series.
Description
---
Do you dream of a life where your success and happiness are well within your hands? A life where you are confident and respected by your peers? Do you want a life where you truly and fully experience the many blessings and wonders of life?
Well, the truth is that this is the life that you deserve. This is also the life that you should live. The good news is that this is well within your reach. Yes, you can make this, and so much more, happen. All you need to do is to properly exercise willpower and give it will happen with enough time and efforts.
Soon, you will be able to break free from the chains of procrastination and live a life that is full of joy, success, and happiness.
Before you take action to overcome procrastination, it is important for you to know and understand why you should get rid of it in the first place. Otherwise, it will be easy to convince yourself to continue to procrastinate. So, why should you get rid of procrastination? There are numerous reasons why. Procrastination has strong and adverse effects on your life. For example, it prevents you from living your life to the fullest. It can also give you a lack of self-worth and importance. It prevents you from succeeding and achieving something that is meaningful in life. Procrastination also prevents you from experiencing the wonderful life and happiness that you deserve. Instead of being successful, it makes you feel defeated and could even convince you to think of yourself as a mere failure. Instead of achieving prosperity, you might end up feeling rejected and lonely. Of course, there are many other adverse effects of procrastinating. It also affects your relationship with other people in a bad way. Regardless of what reasons you may have for getting rid of procrastination, one thing is for sure: The habit of procrastinating does not do you any good in life. Therefore, you have to get rid of it immediately. There is so much beauty in a life that is free from procrastination. This is all the more reason why you should do your best to get rid of it completely. Unfortunately, there are many people who get stuck in the procrastination habit loop. The problem is that, unlike other bad habits, procrastination is a lot trickier to get rid of.
Nonetheless, it is possible and definitely doable to overcome procrastination as long as you have the right knowledge.
At some point in life, every one of us falls into the pit of procrastination. The problem is when it gets so critical that it affects areas of our daily life. We don't feel like we have the time to do the things we want or that we'll never realize our dreams. Regardless of the stimuli, the effects of procrastination are known to be mostly negative. They're always linked with bad performance, time wasting, missing opportunity, and generally feeling bad about oneself. The moment someone procrastinates; less important tasks occupy the position of tasks that are more important. However, there is more than simply not finishing tasks you need to do on time. If you dig deeper, procrastinating can affect major aspects of your life.
This book gives a comprehensive guide on the following:
-Procrastination
-Personality Type
-Habits
-Laziness
-Mindset
-Focus
-Productivity
-Time Management Skills.......AND MORE
Are you getting excited? Then there's no time to waste Scroll up this page and grab your copies today