The Ultimate Greek Cookbook: Greek Cooking Made Easy with Authentic Traditional Greek Recipes (Paperback)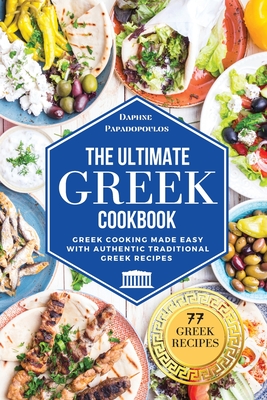 $19.95

Ships to our store in 3-8 Days
Description
---
★ 55% OFF for Bookstores Discounted Retail Price NOW Your Customers Will Never Stop to Use this Awesome Cookbook ★
Celebrate the evocative tastes and traditions of Greek food with this comprehensive collection of recipes.
Modernized Recipes Passed Down Through Generations
With an emphasis on the use of fresh ingredients, limited use of processed raw ingredients, and a generous dose of olive oil in almost every dish, this is a cookbook that moves focus away from weight-management enthusiasts, toward the more health-conscious foodie.
In The Ultimate Greek Cookbook, you will find recipes for colorful, vibrant salads, delicious specialty breads, an array of dips for every occasion, and an abundance of desserts influenced by Greece's geographical position as a checkpoint between the East and the West. Fragrant syrups, eastern spices, and heartwarming custards adorn the pages of this contemporary, yet traditional cookbook.
Recipes include:
Vine leaf and rice rolls
Shrimp in tomato and ouzo sauce
Lemon chicken with rice
Spinach and feta cheese pie
Yellow split pea dip
Black olive bread
Granddad Georgio's garlic potatoes
And many more
Buy it NOW and let your customers having a taste of a new culture with this traditional Greek cookbook.