Mediterranean Diet Cookbook for Beginners: A 28-Day Meal Plan of Quick, Easy Recipes That a Pro or a Novice Can Cook To Live a Healthier Life With Gre (Hardcover)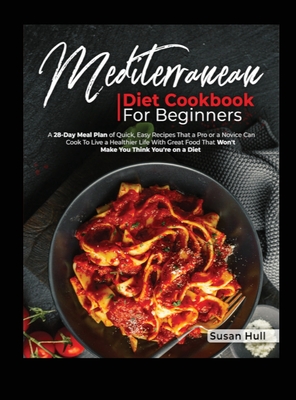 $69.99
Ships to our store in 3-8 Days
Description
---
★ 55% OFF FOR BOOKSTORES ★
★ DISCOUNTED RETAIL PRICE NOW AT $ 31.50 INSTEAD OF $ 69.99 ★
★ YOUR CUSTOMERS WILL NEVER STOP USING THIS AMAZING BOOK ★
Are you currently aware of the 7 Reasons the Mediterranean Diet is #1?
Are you a beginner who is interested in starting a Mediterranean diet?
This Mediterranean Diet Cookbook for Beginners will help you learn all the basics to get started and maintain this healthy lifestyle. This way, they will be able to live a long, happy, and full life.
The Mediterranean Diet has been rated the best diet in the world for the fourth year in a row by health and nutrition experts from U.S. News and World Report. So why is the diet so highly favored? Here are seven reasons why the Mediterranean Diet is the best.
7 Reasons the Mediterranean Diet is #1:
1. It's been around for thousands of years
2. It's been shown to decrease the risk of almost every lifestyle-related disease such as heart disease, Alzheimer's, and diabetes
3. It's anti-inflammatory
4. It's one of the best diets for losing weight over the long term and maintaining it
5. It provides you with many food choices and dishes from countries surrounding the Mediterranean, such as Greece, Spain, Morocco, Egypt, Tunisia, and Italy.
6. It's been shown to improve gut health
7. It's a sustainable way of eating. So delicious you'll never stop eating this way.
This book has recipes that make it easy for a beginner like you to maintain a Mediterranean diet and learn about the components. With a variety of recipes, I know you will enjoy experimenting and exploring new flavors.
This book covers:
- The Mediterranean Food Pyramid
- Forbidden Foods
- Common Mistakes
- Eating Out on the Mediterranean Diet
- 28-Day Meal Plan
- Breakfasts
- Sides, Salads, and Soups
- Sandwiches, Pizzas, and Wraps
- Beans, Grains, and Pasta
- Vegetable Mains
And Much More
The Mediterranean Diet is more than a diet; it's a way of eating that celebrates food, togetherness, and well-being. Give it a shot. You might just end up eating this way forever
Would You Like to Let your customers Know More?
★BUY A CARTON OF THIS BOOK NOW AND LET YOUR CUSTOMERS GET ADDICTED TO IT ★