A Detailed Vegan Cookbook 2021: Vegan Recipes for Delicious Dishes Quick and Easy to Prepare, Great Meatless and Vegan Dishes for Live a Life full of (Hardcover)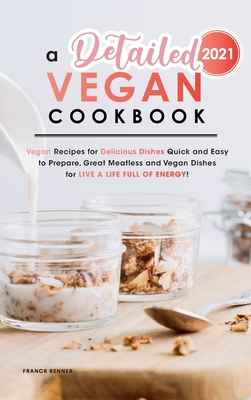 $32.95
Email or call for price
Description
---
★
55% discount for bookstores from listing price 
★
Are you Looking for Vegan Dessert Recipes?
Your customer will never stop using this amazing cookbook
Have you ever thought of becoming a Vegan? If you're interested to discover how you can achieve its benefits, this cookbook is for you
Many people have a difficult time trying to make the switch to a vegan lifestyle. They worry that they'll miss the familiar comfort foods they've enjoyed for years. But making the switch is as simple as following a few simple tips. In fact, there are dozens of different books on vegan cooking available.
The book covers breakfast, lunch, dinner, and snacks, along with anything in between. The recipes are designed to help you get started with a vegan diet and move seamlessly into a fully balanced lifestyle.
There's no need to give up your favorite foods from when you were a non-vegan. In fact, some of the recipes require only small adjustments to taste. There are plenty of plant-based options for every meal of the day that has been lovingly crafted just for you.
Whether you're just starting out or you're an experienced vegan chef, the vegan cookbook vegan cookbook will feed your soul and keep you healthy at the same time. Browse our easy to use catalog and order your next book today
This book covers
- Lunch recipes


- Dessert recipes
And much more
Reduces Risk of Cardiovascular Disease:
According to many medical types of research, vegetarian shows lower risks of cardiovascular diseases than non-vegetarians and the reason is quite obvious, a diet rich in fruits and vegetable is also full of antioxidants. These agents are responsible for stopping atherosclerosis.
Low Cholesterol:
Eating animal fat is like deliberately increasing the blood cholesterol levels, which is not good when it comes to health. After years of research in the field, the Korean Researchers proved that the vegetarians have low levels of cholesterols in their bodies compared to omnivores or the people who eat meat.
Less Risk of Stroke and Obesity:
You are what you eat, it means our eating choices and habits directly impact the mind and the body. If you are not being smart about it, you will end up suffering from obesity or other diseases related to taking animal fats on regular bases is a known cause of obesity. There break down is comparatively slow, thus they accumulate in the body, sometimes even inside the veins causing a fatal stroke.
Less Chance of Developing Kidney Stones:
Breakdown of animal protein releases Uric acid in a large amount. Thus, experts are of the view that animal proteins can also be responsible for kidney stones.
Improve Symptoms of Psoriasis:
Psoriasis, a skin condition characterized by skin redness and irritation can also be treated using a vegetarian diet. Even a gradual shift from non-veg to a purely vegetarian diet has shown marked improvement in its patients.
When you want to go vegan, eating a healthy diet full of fresh foods and seeds becomes your top priority.
Buy it NOW and let your customers become addicted to this incredible book