The Complete Healthy Greek Cookbook: Discover a New World of Flavors and Easy Dishes to Prepare at Home with Over 140 Delicious and Authentic Greek Re (Hardcover)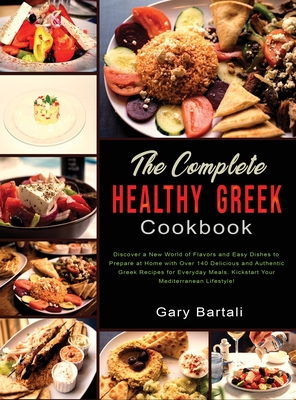 $34.95
Email or call for price
Description
---
Bring the flavors of Greece into your kitchen with easy to make, authentic Greek Recipes
The Greek cuisine is one of the strongest example of how nature and territory can give to millions of people delicious and sustainable food for thousands of years.
From ancient times to the modern day, Greek cooking has evolved to be some of the healthiest around the globe. Greek culture has given a loving name for their own food; they call it "the food of the Gods." With a focus on including whole and local foods, the Greek diet helps to maintain heart health and prevent the development of diabetes, and some areas of Greece are recognized as having some of the lowest cancer rates in the world.
Wheat, Olive oil, Wine, Cheese, Salad and tomatoes: you cannot avoid thinking about the Mediterranean cuisine when these ingredients are mentioned. Fresh, tasteful and healthy cooking is a solid pillar for all the people living on the shore of the Mediterranean Sea.
In The Complete Healthy Greek Cookbook by Chef Gary Bartali you will learn:
- How to cook Greek recipes at home
- 147 delicious recipes for amazing Greek dishes at home
- History, ingredients and tips and tricks for homemade greek food
- What The Greeks Know About Healthy Cuisine
- The Mediterranean Way of Life and Diet
- Benefits of Following a Mediterranean Diet Plan
- ...And much much more
All recipes come with a detailed list of ingredients, cooking and preparation times, number of servings and easy to follow step-by-step instructions.
If you want to prepare amazing tasty Greek dishes to impress family and friends, this cookbook is for you
So, what are you waiting for?
Scroll up, buy it NOW and let your customers get addicted to this amazing book