Easy Pizza Cookbook: A Comprehensive Guide To Mouth-Watering, Easy Pizza Recipes To Prepare At Home For Healthy Eating (Paperback)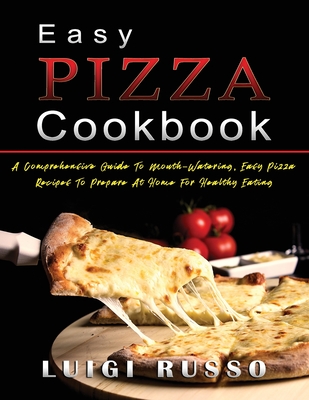 $22.95
Email or call for price
Description
---
Would you like to make your own pizza at home but don't know where to start? Would you like to make (and of course eat) an excellent Italian pizza?Have you tried recipes time and time again, but the results you had were not up to your expectations? Pizza remains America's favorite food, but one that many people hesitate to make at home. In Easy Pizza Cookbook - The Complete Cookbook with Over 100 Professional and Delicious recipes, chef Luigi Russo tackles the topic with his trademark precision, making perfect pizza available to anyone
After 38 years of experience (both in Italy and USA) he decided that all the information he managed to gather over time should not remain a secret. It could be a great starting point for other interested people.
Chef Russo will walk you through the incredible world of pizza
Thanks to this ITALIAN bestseller book about pizza, you will discover:
- The Short History of the World's Favorite Food
- The step-by-step guide on how to create, roll out, and put the topping on an Italian pizza;
- All my 110 professional and delicious recipes to put into practice, both in a pizzeria and at home, with excellent results.
- ...and much more
Through this book, you will be able to achieve two goals. First, you will see extraordinary results and thereby dismiss the myth that it is impossible to create the perfect pizza without secret ingredients and professional ovens. Secondly, you will improve your dough making skills while using unusual ingredients to make any pizza night an evening full of tasty moments of happiness
You must try these fantastic recipes yourself Now, what are you waiting for?
Discover the Secrets and Buon appetito
Scroll up, buy it NOW and let your customers get addicted to this amazing book