People Control: Discover Mind Control and Hypnosis Techniques, Master Your Mind, and Influence the Actions of Millions of People with (Paperback)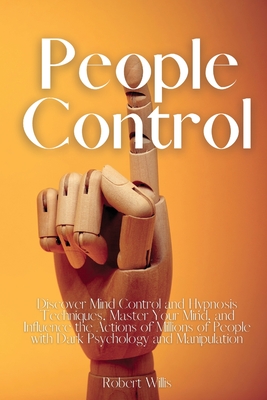 $24.99

Ships to our store in 3-8 Days
Description
---
Would you like to use WORDS and YOUR BODY to get more of what you want from other people? Have you ever been manipulated? Would you like to read people like an open book?
Thanks to this book, you will become a master of yourself and a master of others
You will discover:
What is dark psychology, and why do so many people understand it wrongfully?
How to know when to use reverse psychology to persuade a person to satisfy your needs and desires?
5 KEY AREAS to use your new Reverse Psychology skills - use them with care and honesty
7 Powerful Words That Can Help You Control the Minds Of Others (Learn how to say them with the right tonality and at the right time, otherwise, they won't work )
9 Signs Your Partner Is Mind Controlling You in Toxic, and Possibly Dangerous Way (and how to resist mind control with ease)
How to use what I call "Modern Day Weapon," and why is it so powerful to achieve success and happiness?
26 Ways to Improve Your Emotional Intelligence (and how to choose a few most powerful ones to include into your daily high-performance routine?)
Much more...
So what's next? Just read it and put what you read into action
Buy it NOW and let your customers get addicted to this amazing book.