Morgan 3 Wheeler: back to the future! (Hardcover)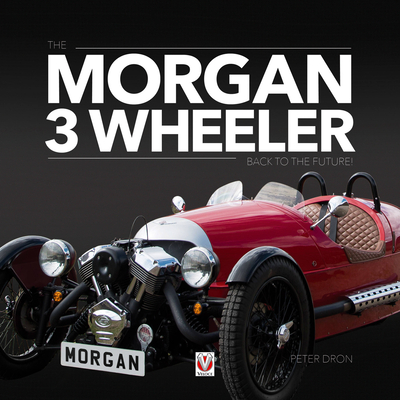 Email or call for price (info@riverbendbookshop.com)
Inquire with a bookseller before ordering. Call 860.430.6608.
Description
---
In the early years of the 21st century, the Morgan Motor Company decided to return to the configuration of its origins, with a new 3 Wheeler. One reason for this decision was that it could no longer sell its four-wheelers in the USA, due to the costs of meeting increasingly restrictive legislation on emissions and accident safety becoming prohibitive for a small manufacturer. The 3 Wheeler, classed as a motorcycle, bypasses these complex requirements. By coincidence, an American three-wheeler, the Liberty Ace (itself a modernized recreation of the V-Twin Morgan Super Sports of the 1930s) was selected as the starting point. Morgan then designed and engineered the new model in an astonishingly short period. The management thought it might sell a few hundred 3 Wheelers; however, orders flooded in after its launch at the 2011 Geneva Motor Show, leading to considerable complications. This is the story of how all that happened and how an eccentric sports car with an American engine and a Japanese gearbox is, nevertheless, quintessentially English.
About the Author
---
Peter Dron wrote for The Daily Telegraph as a columnist and contributor for 15 years. Before that, he was the launch editor of the British monthly magazine Fast Lane, which had a circulation of over 50,000. Before that, he was a road tester for Motor, then Britain's biggest-selling weekly motoring magazine, eventually rising to be the magazine's features editor. He has also contributed to numerous other publications in Britain, the US, France, Germany, Australia, and South Africa. In the 1980s he tested approximately 100 cars per year.
Praise For…
---
"If you are a Morganist, you will want to own a copy." - Octane
"If you do treat yourself to a copy of this beautifully printed and profusely illustrated book you will find yourself constantly referring to its pages; coffee table volume it may be but one to be valued." - Motor Cycling Club (MCC)
—
-
"rather excellent" - New Zealand Classic Car
"A wonderful book for ... anyone who loves 3-wheelers" - Klassiek & Techniek
—
-
"there is no doubt that this is a must-have book for existing and prospective M3W owners, or indeed for any Morgan enthusiast who will want to add this excellent book to their collection." - MOG Magazine (Morgan)
—
-