Indian Superfood (Paperback)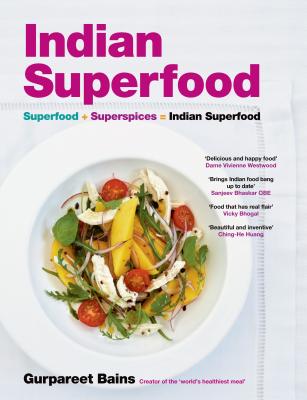 Please contact us for more details
Inquire with a bookseller before ordering. Call 860.430.6608.
Description
---
Gurpareet Bains blitzed his way through a flurry of international press in 2009 when he created 'the world's healthiest meal'. A quite amazing claim, but one which has yet to be disputed. Nor is it likely to be! His very simple chicken curry dish captured the imagination of the media and public alike. (Self-confessed DJ foodie Chris Evans declared it 'the best curry I've ever tasted'.) But Gurpareet's creativity extends far beyond this one celebrated dish to an extensive and life-changing collection of recipes geared towards eating much more healthily. Recognising the exceptional health-promoting properties of combining western super foods with Asian super spices, whilst at the same time tapping into the world's enduring love affair with curry, Gurpareet sets out to inform us about how each recipe in this wonderful collection - via high antioxidant levels, cardiovascular health benefits and a myriad of curative properties - will help to improve our health and wellbeing.
About the Author
---
Gurpareet Bains is a qualified nutritionist, TV personality, columnist and chef. This book and his recipes have been followed by a lot of media interest and publicity, as he has strived to convert one and all to the impressive possibilities of his unique and delicious diet.