The Ultimate Harry Potter Cocktail Cookbook: Discover The Art of Potion-Making Like Wizards and Muggles. Extraordinary Drinking Recipes for Amazing Dr (Paperback)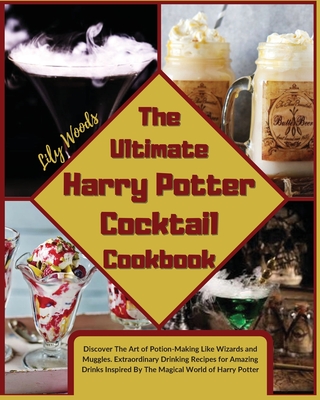 $24.71
Email or call for price
Description
---
Are your kids or nephews diehard Harry Potter fans?
Despite reality, do they continue to hope that the last letter arrived is not a bill to pay for mum and dad, but an invitation to attend Hogwarts?
Birthday party coming up for they whose are true Harry Potter fans?
Know that a theme party with a magical buffet for them and their best friends is the ideal solution to celebrate in an alternative way by saying goodbye to the usual soft drinks.
This magic book contains a review of magical cocktails to amazing passionate kids of the Potter universe.
With this book in your hands, your loved kids will:
- Recreate The Most Imaginative Cocktail Recipes From The World Of Harry Potter; each cocktail is inspired and named after real events, wizards, animals, or potions within the Harry Potter book.
- Be Able to Amaze and Impress Family and Friends with fantastic and magical cocktails for any occasion.
- Receive a Great Gift From You to enjoy with friends. Muggles of any age can learn how to make non-alcoholic mocktails worthy of trade at The Three Broomsticks, in Hogsmeade
- Learn Tips And Easy-To-Use Instructions On Making The Perfect Harry Potter Themed Refreshments, including the right dosage of ingredients and mix.
- Continue to Experience Fantastic Emotions that only the most famous wizard in the world could give you.
- ... & Lot More
How many times did they tell you they wanted to sit down with their friends and drink a nice glass of Butterbeer, sitting at a table in the Cauldron?
How many times have they wanted to taste all the +1 flavors jellies, perhaps hoping not to peck the one with boogers?
It would take a nice ride from Honeydukes and a mountain of galleons to spend; yet just a few ingredients (easily available in all Muggle supermarkets) are enough to prepare all the Potterian specialties they've always wanted to taste
For all fans of the Harry Potter wizard, here is the final rematch.
Make them stop crying bitter tears over the never received Hogwarts letter; it's time to drink it
Order Your Copy Now and Gift Your Kids to Drink What Wizards and Muggles Drink