Crystal Flashcards: 50 full-color cards with metal ring-hold (Cards)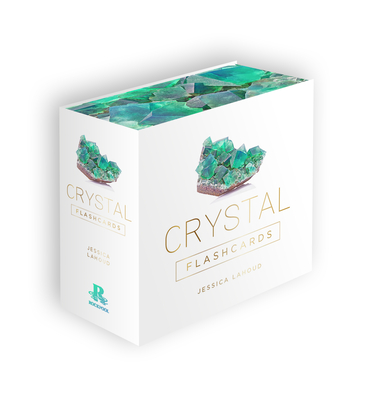 $19.95

Ships to our store in 3-8 Days
Description
---
Crystal Flashcards is a fun and informative card set to explore and learn about the meanings behind 50 of the world's most sought-after crystals.

Experience and master the healing properties of the crystals to gain a deeper understanding of the crystalline world that surrounds you. Whether you have a large crystal collection or you're just beginning to learn about crystals, Crystal Flashcards are an easy-to-use tool for anyone with a fascination for the mineral kingdom.

Crystal Flashcards is packed with information! On each card, you will find a list of the metaphysical properties of each stone along with a set of symbols to identify other interesting and useful facts about each crystal. Using these symbols, you can explore which of the Chakra's and elements every crystal is associated with.  In a rich and colorful display, every crystal is photographed in its most common form so that you can clearly and easily identify your own stones and confidently continue to add to your ever-growing collection!
 
Each card features an image of the crystal on the front and on the back there is the name of the crystal, its metaphysical properties, element, and chakra information all in a legend of symbols along the bottom.

With Crystal Flashcards in your hand, you will feel like a crystal master in no time!
About the Author
---
Jessica Lahoud is an author, artist, and co-owner of Australia's iconic crystal store - Mineralism. Before opening the doors of Mineralism, Lahoud spent her years studying her honors degree in fine arts at Sydney College of the Arts and filming live performances of some of the world's most legendary musicians. She is a third-generation gem and mineral merchant who spent much of her childhood years in the opal fields of the Australian outback and traveling the world to attend international gem and mineral trade shows. Her family connection to the world of gemstones heavily influences her interests, career, art, and her view the world, both physically and spiritually. Lahoud enjoys nothing more than sharing her love and appreciation for the natural world around us and having deep conversations about the mysteries of the universe. Lahoud spends her days offering crystal insights to the spiritual community through her stores as well as into some of Australia's largest companies and media platforms online. She is based in Sydney, Australia but can be found in all parts of the world, sourcing rare, beautiful, and unusual crystals.