The Cajun Vegan Cookbook: A Modern Guide to Classic Cajun Cooking and Southern-Inspired Cuisine (Hardcover)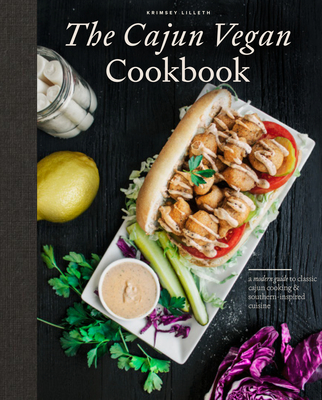 $29.95
Available for Pre-Order Now
Description
---
Plant-based foodies rejoice: you can finally indulge in New Orlean's iconic cuisine thanks to the 120+ recipes in this first-ever Cajun vegan cookbook.

Classic cajun dishes like jambalaya, étouffée, gumbo, and hushpuppies have gone vegan in this delicious plant-based cookbook created by Krimsey Lilleth, founder of the late-and-great Los Angeles restaurant Krimsey's Cajun Kitchen.

The first cajun vegan cookbook on the market, this book features 120+ recipes inspired by the Big Easy and the south, including:
• Breakfasts and Breads: Maple & Roasted Pecan Pancakes, Backwoods Biscuits, and Spicy Cajun "Sausage" Frittata
• Soups, Salads, and Po'Boys: Southern Belle Pepper Salad, Gulf Coast Sea-friend Soup, and Swamp Queen Po'Boy
• Entrees: Heart of the Bayou Étouffée, Jambalaya Collard Wraps, and Chili-Rubbed Butternut Squash Steaks
• Sides: Fried Green Tomatoes, Kale & Tempeh'd Black-Eyed Peas, and Black Sheep Slaw
• Sauces, Dressings, and Toppings: Bourbon Street Sauce, Cajun Nacho Cheeze, and Maple Hunny Butter
• Desserts: French Quarter Beignets, Double Chocolate Hex Brownies, and Caramel Apple Bread Pudding
• Drinks: Jalapeño Cauldron Lemonade, Café Au Lait, and Hurricane Party Mix

In addition to being meat and dairy-free, this cookbook also teaches you how to adapt some of its recipes to be gluten-free, soy-free, and nut-free. Plus recipes include quippy intros and fun "Krimfessions" from the chef like: "Putting potato chips on top of food might be frowned upon in some places, but I don't really care about those places." So get out your spices and prepare to indulge as you bring these modern spins on Louisiana's famous rustic, hearty fare into your home.
About the Author
---
Krimsey Lilleth was born in Baton Rouge, LA, and raised in the rich, celebratory culture of the deep south. She spent a good deal of her childhood in the great outdoors and swampy, magical forest teeming with all sorts of critters she came to love and respect. Krimsey's mission is to inspire others to care for themselves, animals, and the environment through food. She is the founder of the late-and-great Los Angeles restaurant Krimsey's Cajun Kitchen, the world's first vegan cajun restaurant.