Ford Mustang (Paperback)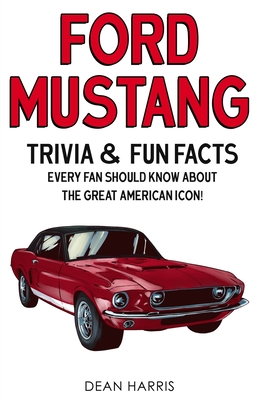 $14.78

Ships to our store in 3-8 Days
Description
---
The Great American Icon - Special Launch Price
American car companies are continually striving to innovate changes in how we see, operate, and make connections with cars. The classic car market taps into a simpler time and invokes a feeling of nostalgia. Mustangs are undoubtedly among the most popular classic cars-they were a hit right off the production line, and 56 years later, they still rank among the top-selling cars and are recognized as a household name. Ford's first pony car remains one of the longest-running sports car nameplates in the United States, second only to the Chevy Corvette. The Mustang has set records time and again with its sales, building on its reputation as the classic car that made its way to American homes.
These milestones helped perpetuate the nostalgic standing that draws people to the pony car. The Mustang has left an imprint on the hearts and minds of many Americans, whether it was a memorable first car experience, the project car that brought people together, or memories created while cruising, parking, or doing burn-outs.
It appeals to consumers for other reasons too. At its inception, the Mustang brought a race-care level of performance and speed to the average American. While suburbia was enjoying upward mobility, car lovers were introduced to an affordable sports car that was also easy to work on. Those defining characteristics-accessible, fast, and affordable-continue to shape Ford's marketing strategy to this day.
The Mustang's performance is wrapped up in the ideals of American individualism. A variety of appealing and performance-enhancing trim options from the factory, plus an endless supply of after-market parts, ensure that you can modify and customize to your heart's content. Whether it's the performance you are after, sentiment, or just an affordable sports car, the Ford Mustang surely fits the bill.
The array of Mustangs produced in its lifetime via creative collaborations, advertising promotions, fan-club upgrades, and even Ford's own special projects are too numerous to detail in a single publication. Anyone, from the most fervent enthusiasts to Camaro owners can appreciate this fun collection of Mustang morsels. Or if your intent is to impress your next date or occupy time on the porcelain throne, we hope you enjoy this trivia book
Click "Buy Now" To Get Your Copy Today