Ross Taylor: Black & White (Hardcover)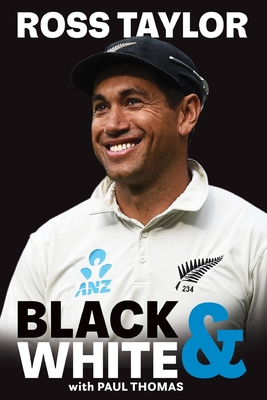 $37.95
Please contact us for more details
Description
---
When an athlete with an exceptional record of achievement and longevity comes to the end of their career, the numbers can speak for themselves.
Ross Taylor has scored the most runs, made the most centuries and taken the most catches by a New Zealander in international cricket. He' s the first New Zealand cricketer to play 450 international matches. He' s the first player from any country to make 100 international appearances in all three formats of the game: test cricket, one-day internationals and Twenty20.
The numbers are extraordinary but they don' t tell the whole story. They don' t capture the unlikely, if not unique, aspects of Ross Taylor' s journey to becoming one of our true sporting greats.
Here is the whole story — in black and white.
About the Author
---
Paul Thomas is an award-winning novelist and columnist. He has written extensively on sport, his nine books on the subject including collaborations with All Blacks legends John Kirwan and Tana Umaga and former New Zealand cricket captain and coaching pioneer John Wright. He has been described as " the Godfather of New Zealand crime fiction" for his ground-breaking series featuring Maori detective Tito Ihaka. The Ihaka novels have been translated into several languages and published in a number of countries, including the UK and the USA.