Europe by Rail: The Definitive Guide (Paperback)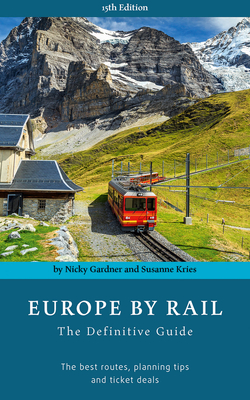 Please contact us for more details
Inquire with a bookseller before ordering. Call 860.430.6608.
Description
---
Life is too good to waste time in airport departure lounges. That's why more and more travellers are discovering that the train is the ideal way to explore Europe. Sit back, relax and watch mountains, coastlines and historic communities slip by beyond the window. Whether you are making a long 'grand tour' or just planning a couple of weekend breaks, Europe by Rail is the perfect guide. The book is shaped around 50 key routes which span mainland Europe. Each route can be followed in its entirety or used as a building block in a longer itinerary. Beyond the main routes, there are pointers to branch lines and less frequented railways. Europe by Rail is written by two highly experienced travellers who have been roaming the rails of Europe for years. You'll find immensely useful tips about how to plan journeys, what tickets to buy and where to stop off along the way. There are special sections for holders of rail passes, including Interrail and Eurail, as well as information on night and cruise trains. The country guide summarizes key information about travelling by train through each of the 48 countries listed. Apart from being full of good advice and up-to-date information, the book is also a good read. With its nicely opinionated style and lots of cameo accounts of travel history, there's plenty here for armchair travellers too. The geographical scope of this long-standing travel guide extends from Arctic Scandinavia to the Mediterranean, from Portugal to Ukraine and Russia.
About the Author
---
Nicky Gardner is a Berlin-based travel writer who weaves words about Europe's finest rail journeys. She also writes about cultures and communities. With Susanne Kries, Nicky is co-editor of hidden europe magazine and co-author of Europe by Rail - the 15th edition of which is published in late 2017.Brought up in Berlin, Susanne Kries has a strong interest in public transport. Susanne has worked with Nicky Gardner on many projects, including several editions of Europe by Rail. The two women edit hidden europe, a print magazine showcasing thoughtful travel writing.
Praise For…
---
"The book is an alluring combination of evocative writing ("Speed soaks up detail as poppies in the fields of Flanders become a red haze") and practical advice. Subtitled The Definitive Guide for Independent Travellers, it is also a history of Europe in 50 train routes." - Simon Calder - The Independent

"There is much guidance on planning, buying tickets and finding accommodation, recommending the best and most user-friendly websites. All in all, this is a fantastic book which is perfect for any traveller, even the armchair variety." - Mike Sansbury - Ilkley Gazette

"Europe By Rail could have been a dry, practical guide and still been an invaluable book, but where the writers really score is in evoking such a strong sense of place. Each route is carefully described with tightly-written guides to and descriptions of the destinations involved that make the fifty route chapters eminently readable as pieces of travel writing in themselves." - Charlie Connelly -

"This year sees the long-awaited arrival of a completely revised and updated 14th edition of Europe's most comprehensive railway guide book - the last publication to continue the fine traditions of Thomas Cook, the father of modern tourism whose first travel guide was published in 1873. In short, get on board a European train armed with this guide and you'll be in for a fascinating journey." - Vitali Vitaliev - Engineering & Technology Magazine

"Each chapter is peppered with insights into culture and heritage, and practical information for making the most out of a journey. [...] Europe by Rail is a guidebook that proves both inspirational and informative." - Stuart Forster - Go - Eat - Do

"The real strength – and heart – of the book are the 50 suggested rail journeys, beautifully written, that give you a real flavour of the possibilities out there for crisscrossing Europe and what you might discover along the way." - Paul Scraton - Elsewhere: A Journal of Place

At first glance, the 15th edition of 'Europe by Rail: The Definitive Guide' by Nicky Gardner and Susanne Kries (Hidden Europe, £15.99; ISBN 978 3 945225 01 1), the bestselling and highly unusual guidebook, looks both familiar and different. Familiar, because we have reviewed this title's previous editions – all of which were released by Thomas Cook Publishing – in E&T. Different, because, for the first time, 'Europe by Rail' is published by Hidden Europe Publications, a Berlin-based firm established and run by the two knowledgeable and highly peripatetic authors themselves, who also edit and put together the 'Hidden Europe' quarterly magazine of which I have been a dedicated subscriber for many years. With all due respect for the now-defunct Thomas Cook Publishing, I have to confess to being relieved that Gardner and Kries have taken publication in their own practised, well-travelled hands. The difference with previous editions is obvious from the cover, which, while preserving the habitual colour scheme, is somewhat neater and more eye-catching than the familiar Thomas Cook version.https://eandt.theiet.org - Engineering & Technology Magazine - https://eandt.theiet.org

You are here: Home / Europe / Europe by RailEurope by RailDECEMBER 13, 2017 BY RUDOLF ABRAHAM LEAVE A COMMENTI was recently sent a copy of the latest (15th) edition of the book Europe by Rail – The Definitive Edition, by its Berlin-based authors Nicky Gardner and Susanne Kries (who are also the lovely people behind hidden europe magazine, to which I have been a regular contributor since 2007).european rail travel ebr-15-cover-web It's a wonderful book – I love the idea of arranging a travel guide around rail journeys, rather than rail journeys merely being included as a means of getting from A to B (or as the authors put it, it's a guidebook with an emphasis on journeys rather than destinations). Over its 512 pages, it includes some 50 rail routes, which between them do an impressive job of covering the wealth of landscapes, cities, cultures and languages this continent has to offer, from the Bay of Biscay to the Baltic, and from the Balkans to the Arctic Circle. The routes are preceded by a 48 page introduction which carries sections on night trains, rail passes, how to get the best deals on tickets and other useful information, along with plenty of inspiring colour photos. As you'd expect from the people behind hidden europe, it's very readable, with a more literary style than you'd generally expect from most guidebooks, and an emphasis on slow travel. And it's not too large, fitting easily within my camera bag (a fairly standard indication of whether something is likely to accompany me on my travels). That's not to say the routes are short on facts either – along with tips on what to see along the route, each is accompanied by journey times, distances, train frequencies (cross-referenced to the relevant sections of the European Rail Timetable), suggested stop-overs, connections and other details (including some suggestions for hotels, and the locations of tourist offices), together with a handy sketch map.Europe by Rail began life around 20 years (and more than 100,000 copies) ago, and over successive editions has been transformed from a book about 60 European cities (presented with a healthy serving of information on rail travel), into a book about the rail journeys themselves, a form it first took with the 14th edition. This new, 15th edition builds further on this, with more routes added, improved sketch maps, and thoroughly updated timetable information.Within the card covers are maps of Europe showing the location of the routes. With one of these open, I closed my eyes and took a blind prod at the map with my right index finger. It landed somewhere near Prague, on Route 22 – a rail journey stretching from Hamburg to Budapest. Having been on at least one leg of that journey earlier this year – taking the S-Bahn east from Dresden along the Elbe to Kurort Rathen, followed by a short ferry crossing and a hike up into the other-worldly rock formations of Saxon Switzerland National Park – this brought a smile to my face. Turning to the corresponding page of Route 22, I found the sensible advice to 1) sit on the left when travelling south (the views of the sandstone formations are on that side) and 2) take the slow train, allowing for a stop-off to visit the national park, and mentioning the ferry.The information given on a suggested stop-over is always interesting and goes well beyond the standard blurb of tourist brochures. Looking up another journey (45, from Zagreb to Thessaloniki) for example, I turned to the pages on Zagreb, a city I know rather well having lived there. Sure enough, what greeted me was not a paragraph with its number of inhabitants or a dose of hyperbole, but a paragraph about Croatian writer Miroslav Krleža and one of his essays on Zagreb. More familiar and practical information on the city is cross-referenced to another journey (44).As the authors state in the introduction (I paraphrase a little), it is the job of a decent guidebook to inform and inspire. Europe by Rail does both in spades. - Rudolf Abrahams - https://rudolfabraham.wordpress.com

In my student days I used to pore over an annual publication called Europe by Train, by Katie Wood and George McDonald. Marketed as "the Inter-Railer's bible," it provided detailed information about Europe's many and varied railway systems and served as an appetiser for budget travellers who wished to explore the mysteries of Eastern Europe, the hostels of Paris and the camaraderie of the Transalpino. I seem to recall that the idea of older, more financially solvent rail travellers was viewed with some suspicion. The modern traveller is far more fortunate. Borders have vanished, train companies have modernised and we now have a guide book which appeals to a much wider range of travellers. Rather than aiming at students, Nicky Gardner and Susanne Kries have created, in Europe by Rail, a book which combines essential practical information with romantic descriptions of places familiar and otherwise. Now in its fifteenth edition, the book is the perfect guide for today's rail traveller. Fifty main routes are suggested, and alternative timings give the option of frantic dashing or leisurely trundling. Sometimes the journey is the thing, passing through glorious countryside and watching the landscape change as borders are crossed. More often, however, the proliferation of routes and options allows the traveller to meander, loiter, sample local cuisine, maybe take in a museum or two before moving gently on. A lot can be experienced in a few days without hurtling madly from city to city. Highlighting the green credentials of rail travel, the flexibility of the continental network and capturing the sheer excitement of Europe's towns, cities and landscapes, the book also gives useful links to websites offering tickets, route plans and more. Side panels offer historical background and railway trivia as well as a taste of local life in the many stops. For instance, there's an awful lot of coffee in Trieste, and this book tells you the best place to drink it. What comes across more than anything is a genuine love of Europe and a huge enthusiasm for exploring different countries and cultures. Living in Berlin, the authors are at the very heart of Europe, and the routes and diversions they suggest give everyone the chance to sample the excitement of having a whole continent spread out before us, offering sights, sounds and flavours for the price of a train ticket. The opportunity exists even on our little island - the glorious theatre of St Pancras offers a gateway to Europe, with an optional champagne send-off. Armed with this book and its sister publication, the European Rail Timetable, tucked under one arm like a latter-day Bradshaw, the British traveller should be ready to embrace everything that mainland Europe has to offer. - Grove Bookshop - http://www.grovebookshop.com

Long-time readers of Elsewhere: A Journal of Place will know how much we love rail travel. In the pages of the journal and here on the blog we have never been slow to admit that it is almost certainly our favourite mode of transport, challenged only by our joy of going for a walk. It is a love that we share with a couple of close friends of the journal, Nicky Gardner and Susanne Kries. Nicky was a very early contributor to Elsewhere, with a short essay appearing in the very first edition of the journal, and together with Susanne, is the editor of the wonderful hidden europe magazine. Last month, Nicky and Susanne's latest project hit the shelves: the 15th edition of Europe by Rail: The Definitive Guide. As both editors and now publishers of the guidebook, Nicky and Susanne have brought their trademark attention to detail to all aspects of the new publication, and as always it is an absolute pleasure to read. With routes from the Atlantic coast of Portugal in the west to the Carpathian Mountains in the east, there can be few more pleasurable ways to spend a cold and windy winter's afternoon than to be curled up on the sofa with this book, reading about and imagining the different journeys contained within these pages, growing ever-more inspired for the next journey to elsewhere. Nicky and Susanne have been kind enough to send us some sample texts from the book, to give you a sense of what you can discover between its elegantly designed covers, and we can highly recommend it either for yourself, to plan a trip, or as a Christmas present for that rail-loving friend or member of your family. For the 15th edition of the guide there are a number of new routes. One of which takes us from Zagreb through Serbia and Bulgaria to Thessaloniki in Greece. As befitting a book written, edited and published by strong proponents of Slow Travel, the routes are not ones where anyone is in a rush. Here's how things get started, around Zagreb station in Croatia: Take a look around the vicinity of the station before leaving Zagreb. The north is the posh side of the railway tracks. The distinguished Croatian writer Miroslav Krleža wrote a damning essay on social (and spatial) divides in Zagreb in 1937. To the north of the station, he found "hot water, roulette, lifts, on parle français, Europe, good!" Over on the south side of the railway there were "open cesspits, malaria… Balkan, a sorry province." To Krleža, those quarters of Zagreb beyond the railway were "the back of beyond, Asia." That from a left-leaning writer who was keen to shock the Zagreb bourgeoisie – all by definition residing north of the railway – out of their complacency. Nowadays, the cesspits south of the tracks are long gone and the district between the railway and the river, while not pretty, is an edgy part of town where activists protest against real estate speculators. Even Zagreb has its rebel zone. If you incline towards more sedate cityscapes, stick to the north side of the station where the Esplanade Hotel still has uniformed bellboys and the Paviljon restaurant attracts an affluent elite who like elaborate cakes and seem not to have noticed that the Habsburg Empire disappeared a while back. Both the Esplanade and the Paviljon are visible from the front of the station. It's also impossible to miss the statue of good old King Tomislav and his horse which arrived here in 1947 and commemorates the tenth-century monarch who is credited with having created the first coherent Croatian state. Whatever you make of Tomislav, the statue was a good way of recycling old cannons which were melted down to secure the bronze needed.As the journey from Croatia to Greece continues, the emphasis, as with all the routes in the book, goes beyond practical information to give the reader a sense of the appeal of the journey. Here are a couple of further snapshots of the route to Thessalonki: The train to Belgrade rolls on across the dark plain to reach Tovarnik, a village which would barely warrant a stop bar for the important fact that it's the last community in Croatia. Just over the fields lies the border with Serbia. It's not so many years since minefields in this border region continued to pose a major danger. Today, all is calm and the border formalities, conducted at Tovarnik and at Šid on the Serbian side are invariably civil and often even good-humoured.Beyond Šid, our train doesn't rush. This is pleasant, undemanding country: the Sava flatlands drifting away to the southern horizon on the right side of the train, while to the left there are the distant ripples of the forested hills known as Fruška Gora. The first stop is at Sremska Mitrovica, the biggest community in Serbia's Srem region and a relaxed riverside town which traces its history back to the Roman settlement of Sirmium. The town's claim to be 'the glorious mother of cities' may raise a few eyebrows, but it's a nice enough spot for a first taste of Serbia. Towards the Bulgarian border. Long-time readers of Elsewhere: A Journal of Place will know how much we love rail travel. In the pages of the journal and here on the blog we have never been slow to admit that it is almost certainly our favourite mode of transport, challenged only by our joy of going for a walk. It is a love that we share with a couple of close friends of the journal, Nicky Gardner and Susanne Kries. Nicky was a very early contributor to Elsewhere, with a short essay appearing in the very first edition of the journal, and together with Susanne, is the editor of the wonderful hidden europe magazine. Last month, Nicky and Susanne's latest project hit the shelves: the 15th edition of Europe by Rail: The Definitive Guide. As both editors and now publishers of the guidebook, Nicky and Susanne have brought their trademark attention to detail to all aspects of the new publication, and as always it is an absolute pleasure to read. With routes from the Atlantic coast of Portugal in the west to the Carpathian Mountains in the east, there can be few more pleasurable ways to spend a cold and windy winter's afternoon than to be curled up on the sofa with this book, reading about and imagining the different journeys contained within these pages, growing ever-more inspired for the next journey to elsewhere. Nicky and Susanne have been kind enough to send us some sample texts from the book, to give you a sense of what you can discover between its elegantly designed covers, and we can highly recommend it either for yourself, to plan a trip, or as a Christmas present for that rail-loving friend or member of your family. For the 15th edition of the guide there are a number of new routes. One of which takes us from Zagreb through Serbia and Bulgaria to Thessaloniki in Greece. As befitting a book written, edited and published by strong proponents of Slow Travel, the routes are not ones where anyone is in a rush. Here's how things get started, around Zagreb station in Croatia: Take a look around the vicinity of the station before leaving Zagreb. The north is the posh side of the railway tracks. The distinguished Croatian writer Miroslav Krleža wrote a damning essay on social (and spatial) divides in Zagreb in 1937. To the north of the station, he found "hot water, roulette, lifts, on parle français, Europe, good!" Over on the south side of the railway there were "open cesspits, malaria… Balkan, a sorry province." To Krleža, those quarters of Zagreb beyond the railway were "the back of beyond, Asia." That from a left-leaning writer who was keen to shock the Zagreb bourgeoisie – all by definition residing north of the railway – out of their complacency. Nowadays, the cesspits south of the tracks are long gone and the district between the railway and the river, while not pretty, is an edgy part of town where activists protest against real estate speculators. Even Zagreb has its rebel zone. If you incline towards more sedate cityscapes, stick to the north side of the station where the Esplanade Hotel still has uniformed bellboys and the Paviljon restaurant attracts an affluent elite who like elaborate cakes and seem not to have noticed that the Habsburg Empire disappeared a while back. Both the Esplanade and the Paviljon are visible from the front of the station. It's also impossible to miss the statue of good old King Tomislav and his horse which arrived here in 1947 and commemorates the tenth-century monarch who is credited with having created the first coherent Croatian state. Whatever you make of Tomislav, the statue was a good way of recycling old cannons which were melted down to secure the bronze needed. As the journey from Croatia to Greece continues, the emphasis, as with all the routes in the book, goes beyond practical information to give the reader a sense of the appeal of the journey. Here are a couple of further snapshots of the route to Thessalonki: The train to Belgrade rolls on across the dark plain to reach Tovarnik, a village which would barely warrant a stop bar for the important fact that it's the last community in Croatia. Just over the fields lies the border with Serbia. It's not so many years since minefields in this border region continued to pose a major danger. Today, all is calm and the border formalities, conducted at Tovarnik and at Šid on the Serbian side are invariably civil and often even good-humoured. Beyond Šid, our train doesn't rush. This is pleasant, undemanding country: the Sava flatlands drifting away to the southern horizon on the right side of the train, while to the left there are the distant ripples of the forested hills known as Fruška Gora. The first stop is at Sremska Mitrovica, the biggest community in Serbia's Srem region and a relaxed riverside town which traces its history back to the Roman settlement of Sirmium. The town's claim to be 'the glorious mother of cities' may raise a few eyebrows, but it's a nice enough spot for a first taste of Serbia. Leaving the main line at Niš, there is immediately a sense of entering another world. We've swapped a double-track electrified railway for a humble single-track rural line where trains are hauled by an ancient blue diesel engine which was once reserved for use on the luxury plavi voz (Blue Train) which ferried Yugoslav leader President Tito around the country. But there is no hint of luxury on the slow train to Dimitrovgrad. The railway follows the Nišava Valley up into increasingly rugged hills, along the way passing through Bela Palanka and Pirot, the latter newly raised to city status and still noted for its fine traditional woven carpets. From Pirot it is just a short hop onto Dimitrovgrad, the last station before the Bulgarian border, and a community where ethnic Bulgarians outnumber Serbs by two to one. The language spoken in this border region is Torlak, a South Slavic transitional dialect which has elements of both Serbian and Bulgarian.Leaving the main line at Niš, there is immediately a sense of entering another world. We've swapped a double-track electrified railway for a humble single-track rural line where trains are hauled by an ancient blue diesel engine which was once reserved for use on the luxury plavi voz (Blue Train) which ferried Yugoslav leader President Tito around the country. But there is no hint of luxury on the slow train to Dimitrovgrad. The railway follows the Nišava Valley up into increasingly rugged hills, along the way passing through Bela Palanka and Pirot, the latter newly raised to city status and still noted for its fine traditional woven carpets. From Pirot it is just a short hop onto Dimitrovgrad, the last station before the Bulgarian border, and a community where ethnic Bulgarians outnumber Serbs by two to one. The language spoken in this border region is Torlak, a South Slavic transitional dialect which has elements of both Serbian and Bulgarian. - Elsewhere Blog - https://www.elsewhere-journal.com