Hombres G: Nunca hemos sido los guapos del barrio / Hombres G: We've never been the cute guys on the block (Paperback)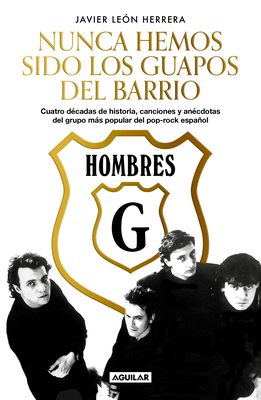 $17.95
Email or call for price
Description
---
«En este libro nos hemos desnudado como nunca antes lo habíamos hecho.»

David, Dani, Javi, Rafa (Hombres G)

La primera biografía autorizada del grupo más icónico de los ochenta.

David Summers compuso Devuélveme a mi chica horas antes de salir a tocar en Rock-Ola, cuando se enteró que la chica que le había dejado iba a asistir al concierto con su nuevo novio. Nadie creía que pudieran ganarse la vida con la música, ni siquiera su padre, quien le dijo: «No te veo con sesenta años cantando Sufre mamón».

En su primera prueba para entrar en un grupo, Los Residuos, Javier de Molina destrozó la batería a base de golpes. Era la primera vez que se sentaba en una. Le ficharon sin dudarlo. Ahí empezó todo. Los primeros ensayos con Hombres G los hacía dándose golpes en la pierna al no tener batería propia.

Con doce años Daniel Mezquita compraba vinilos de David Bowie; con dieciséis hacía pellas para colarse en Rock-Ola y tocar con el uniforme del colegio puesto; y con dieciocho se escapaba de su casa por la noche para poder actuar de madrugada con los Hombres G en un pub.

Rafael Gutiérrez tuvo que abandonar el Club Deportivo Pegaso por su cabellera rockera, su pasión por la música estaba por encima de su afición al fútbol. Aprendió a tocar la guitarra con el Made in Japan de Deep Purple. Conoció a David y Javi en TVE en 1982 y con él nacieron los Hombres G.

Esta es la historia de cuatro niños soñadores, apasionados de la música, que empezaron formando un grupo punk inspirado en los Sex Pistols y que, años después, cuando triunfaron como Hombres G, rechazaron contratos millonarios por ser fieles a quien creyó en ellos desde el principio. Esta es la historia de unas canciones inmortales y unas vivencias únicas con detalles nunca contados; de un grupo que ha tocado en míticos escenarios en América y España y se ha convertido en leyenda viva del pop-rock español: Hombres G.

HOMBRES G ha tenido una trayectoria legendaria, con millones de discos vendidos y más de mil conciertos incluyendo sold out en míticos escenarios de la talla de Las Ventas en Madrid, el Palau Sant Jordi de Barcelona, el Arena de la Ciudad de México y Monterrey, el Auditorio Telmex de Guadalajara, el Hollywood Bowl y el Gibson Amphiteatre de Los Ángeles y el Radio City Music Hall de Nueva York. Es el único grupo pop-rock español de todos los tiempos con casi cuarenta años de vida y semejante palmarés.

La leyenda Hombres G se forja a través de su esencia: un repertorio de canciones inolvidables que invitan al buen rollo y forman parte de la banda sonora de la vida demillones de personas, un público intergeneracional que sigue llenando sus conciertos y compartiendo su filosofía de vivir con energía levantándose por la mañana dando un salto mortal.

ENGLISH DESCRIPTION

 "In this book we've stripped down as we never have before. "
 
David, Dani, Javi, Rafa (Hombres G)
 
The first authorized biography of the most iconic group of the eighties.
 
David Summers composed Devuélveme a mi chica hours before going out to play at Rock-Ola, when he found out that the girl who had left him was going to be at the concert with her new boyfriend. Nobody believed that they could earn a living with music, not even his father, who told him: "I don't see you at sixty singing Sufre mamón."
 
In his tryout for a band, Los Residuos, Javier de Molina destroyed the drums with his blows. It was the first time he had sat in front of one. They signed him without hesitation. That's where it all started. The first rehearsals with Hombres G were done by drumming on his leg because he did not have his own drum kit.
 
At the age of twelve, Daniel Mezquita bought a vinyl by David Bowie; at sixteen he had the balls to sneak into Rock-Ola and play with his school uniform on; and at eighteen he ran away from home at night so he could perform at dawn with the Hombres G in a bar.
 
Rafael Gutiérrez had to leave the Pegaso Sports Club because of his rocker hair, his passion for music was greater than his love of soccer. He learned to play guitar with Deep Purple's Made in Japan. He met David and Javi on TVE in 1982 and with him the Hombres G were born.
 
This is the story of four kids with a dream, passionate about music, who started forming a punk group inspired by the Sex Pistols and who, years later, when they triumphed as Hombres G, rejected millionaire contracts to remain faithful to whoever believed in them from the beginning. This is the story of immortal songs and unique experiences with details never told before; of a group that has played on mythical stages in America and Spain and has become a living legend of Spanish pop-rock: Hombres G.
 
HOMBRES G has had a legendary trajectory, with millions of albums sold and more than a thousand concerts including ones that sold out in legendary venues such as Las Ventas in Madrid, the Palau Sant Jordi in Barcelona, ​​the Arena in Mexico City and Monterrey, the Telmex Auditorium in Guadalajara, the Hollywood Bowl and the Gibson Amphitheater in Los Angeles, and the Radio City Music Hall in New York. It is the only Spanish pop-rock group that's lasted almost forty years in the record books.
 
The Hombres G legend is forged through its essence: a repertoire of unforgettable songs that invite good vibes and form part of the soundtrack of the lives of millions of people, an intergenerational audience that continues to fill their concerts and share their philosophy of livinr,  energetically getting up in the morning and doing a somersault. "