Sicilia in Cucina/The Flavours of Sicily (Hardcover)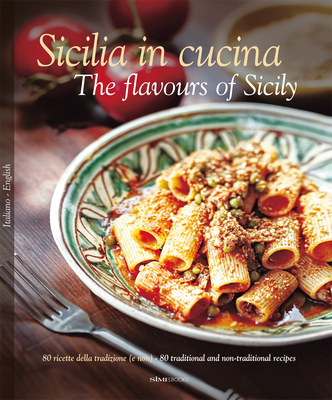 Please contact us for more details
Inquire with a bookseller before ordering. Call 860.430.6608.
Description
---
The gastronomic culture of Sicily captured in 80 recipes. But SICILIA IN CUCINA is not just another cookbook: It offers an authentic insight into Sicily's culinary art and culture, side by side with a photographic journey through the island. Alongside traditional fare are recipes with a touch of creativity, as well as invaluable advice on pairing with local wines. The book includes an entire section on wines from historic wineries, as well as a few new arrivals, and another section is devoted to the herbs of Sicily. The cuisine of Sicily takes its flavours from the sea, land, and mountains. Its unique mixture of tastes is also the product of an overlapping of the different cultures that, over thousands of years, have made Sicily a crossroads between the culinary traditions of the Western and Arab worlds.

About the Author
---
William Dello Russo was born in Puglia and now lives in Milan. He has written tourist guides to Italy, contributed to art history and tourism magazines, and has authored numerous art books. Among his guidebooks, he wrote Puglia (Tracce, 2007) and Matera e la Basilicata (Itinerari, 2007) for Touring Club Italiano, and Lecce (2007) for Mondadori's City Book series. Among his recent books is Puglia: tra cielo e mare (SimeBooks, 2011). Antonino Bartuccio developed an early interest in art and music, and began working in printing as a young man. His creative instincts soon led him to photography, however, and he developed his skills during an extended stay in Brazil. In 2008 he won first prize in the National Geographic national photography contest. Alessandro Saffo was born in 1964 and now lives in Catania. He has published a series of photography books devoted to Sicily, but his work has also appeared in major Italian and international publications, including Meridiani, L'espresso, and Bell'Italia. Although born in New York, Rita Russotto has lived in Sicily since she was seven. She fell in love with desserts as a child, soon developing a passion for Sicilian and ethnic cuisine. Between 2000 and 2005, she ran the Duomo restaurant in Ragusa, where she put in practice a culinary philosophy based on her research into antique Sicilian recipes. Today, she shares her passion with the world through her internet blog and runs the Satra restaurant in the heart of Scili. An overwhelming passion for cooking led the young Carlo Sichel halfway around the world to learn his art. He's now been chef in his own restaurant for 15 years and, nowadays, can also be found in the kitchens of other Italian and international restaurants. His work with the University of Catania and Slow Food has seen him travel from Catania (where he owned the Carato Enoteca con Cucina wine bar and restaurant) to Poland, Colombia, Tuscany and back to Catania, where he teaches at the Scuola di Cucina Congusto. His food philosophy is quite simple: technique should always be at the service of the quality of raw ingredients.