Homemade Pasta Cookbook: A Recipe Book for Beginners to Master the Art of Handmade Italian Pasta (Paperback)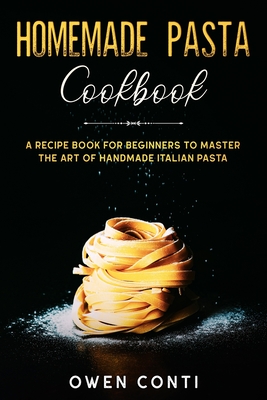 $16.92
Ships to our store in 3-8 Days
Description
---
Do you want to
know
how to make homemade pasta
from scratch and easily
without
professional
machines
and
equipment
?
Pasta is one of the symbols of cuisine worldwide, but even if everyone knows it, few people (including chefs) manage to get great homemade pasta.
Many think that it is something absolutely hard, while others, who believe they are capable, do not excel because they do not yet know the right know-how to make outstanding homemade pasta at the same level as a starred Italian restaurant.
Owen Conti, of Italian origins and executive chef for over 16 years, knows well how to make delicious homemade pasta and with this book, he wants to share with all home cooks his techniques and expertise to prepare the real pasta as per Italian tradition.
In this Italian cooking guide, you will find:

What are the various types of dough for pasta

What ingredients are needed for each type of dough

How to prepare the perfect dough step-by-step
Images for each type of pasta

The secret to cooking pasta
More than 50 recipes to prepare all types of homemade pasta most eaten in Italy step-by-step
And much more
Even if you have always bought premade pasta and have never tried to make it at home in your life, don't worry, because
Owen
will guide you in the
simple preparation of your first delicious homemade pasta dish
If you want to
amaze yourself, your family, or your guests
at dinner by immersing them in the
flavors and tradition of homemade Italian pasta
, then scroll up and click the
Buy Now
button.