BOOK TRUCK: Toddler Story + Craft Hour @ The Firestone in Manchester
Submitted by Meghan on Sun, 05/16/2021 - 5:34pm
Tuesday, May 18, 2021 - 10:00am
Tuesday, June 1, 2021 - 10:00am
Tuesday, June 15, 2021 - 10:00am
Toddler Time | Story + Craft Hour at The Firestone in Manchester
TICKETS REQUIRED FOR THE CRAFT - $15, please order from The Firestone: https://www.thefirestonect.com/events (book not included)
We are so excited to partner with our friends at The Firestone on one of their most popular events - Toddler Time!
Our booksellers will kick off the event with a story, and The Firestone creative team will have a special craft that relates to the book. How fun!
Story Time Schedule
May 18th - Bruno, the Standing Cat by Nadine Robert
June 1st - The Nice Dream Truck by Beth Ferry
June 15th - Blue Chicken by Deborah Freedman - with the Author!!!
Books:

$17.99
Email or call for price
ISBN: 9780525647140
Published: Random House Books for Young Readers - April 16th, 2019
---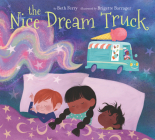 $19.99
Email or call for price
ISBN: 9780062907837
Published: HarperCollins - March 23rd, 2021
---

$18.99

ISBN: 9780670012930
Availability: Available at One of Our Locations
Published: Viking Books for Young Readers - September 15th, 2011
---