Dot Day Celebration
Submitted by Meghan on Sun, 09/08/2019 - 9:38pm
International Dot Day, a global celebration of creativity, courage and collaboration, began when teacher Terry Shay introduced his classroom to Peter H. Reynolds' book The Dot on September 15, 2009.
The Dot is the story of a caring teacher who dares a doubting student to trust in her own abilities by being brave enough to "make her mark". What begins with a small dot on a piece of paper becomes a breakthrough in confidence and courage, igniting a journey of self-discovery and sharing, which has gone on to inspire countless children and adults around the globe.
We love this message and think it is important for all children to make their mark, so River Bend Bookshop is celebrating Dot Day on Sunday, September 15th. Drop by anytime between 10am and 4pm to make your mark with some easy dot art and enjoy some sweet treats. Story time will be at 10:30am and 2pm, and we'll be reading The Dot, of course!
Event date:
Sunday, September 15, 2019 - 10:00am to 4:00pm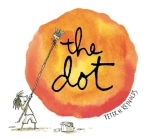 $15.00
ISBN: 9780763619619
Availability: Usually Ships in 1-5 Days
Published: Candlewick - September 15th, 2003
---